Overseas Yachts
Lower Farm Cottage
Beaminster, Dorset, GB, DT8 3JA
Tel:(+44) 7766086542 - (Please use Whats App)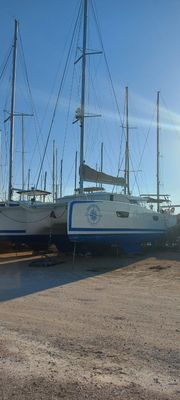 2021 Fountaine Pajot Saona 47
Preveza, Greece
Length
45'10 ft / 13.98 m
* OWNERS VERSION - LOW ENGINE HOURS - @ (WA) FOR MORE PIC'S & VIDEO'S *
This 2021 model is indeed a fabulous brand new offer that was only launched @ 12th June 2021 and now only being a few months old the owner has already decided to trade up and hence this amazing opportunity for her new owner. She is a fabulous owners version, which has very low engine hours @ (420h). She is also very much under warranty compared to, ordering a new model where the waiting list for the Tanna Model is currently until 2025!
As a result we highly recommend early contact with us and/or viewings because the international market is now back with a vengeance and popular yachts are not hanging around for long!
We do indeed hope this all helps and we now of course welcome your serious question/s and viewing request/s with great interest...
Specifications
Length Overall
45'10 ft / 13.98 m
Max Draft
4'7 ft / 1.40 m
Total Engine Power
118.40 hp
Engine 1 Specifications
Propeller Type:
3 Blade, Folding
Engine 2 Specifications
Propeller Type:
3 Blade, Folding
Engine Location:
Starboard
FULL INVENTORY:
A NEW 47 MAESTRO
(3 cabins - 3 baths with 3 Electric Heads/WC's)
Comfort version
CF GL O Version configuration
Curtains in cabins
Mooring kit + 6 fenders
CST mainsail full batten
Automatic mainsail Hook
Lazy jack
Electrical windlass (1500 Watts)
VHF mast head antenna prewired
Double clutch for reefs 2 & 3
Interior 12V outlet and waterproof exterior
12V outlet
Deck shower (hot water)
Auto. switch for bilge pumps
Lazy bag
Dralon protective cover for wheel
Electric winch for mainsail
Interior courtesy LED lighting
Pressurized seawater system
Fusion audio pack Bluetooth 4 Sp
Main grid 220V 50HZ
2000W Inverter/charger / 220V 50HZ
Video TV/HIFI pack TV/radio antenna
Upgrade Bose Outdoor cushions (Cockpit + Lounge Deck)
1 Electric winch for genoa sheet
Cockpit courtesy lighting
Option
ENGINES
OPT0581621 2 VOLVO 60HP D2 engines @ (420 Hours on both engines) + (Both the 50 hours & 200 hours Services have been completed)
OPT0581825 3-blade folding props/V60HP
1 SADDLERY
OPT0588012 Papyrus fabric outdoor upholstery
OPT0588034 Papyrus outdoor canvas
OPT0588043 Nature PVC indoor upholstery
OPT0588057 Sunbrella Marble fabric indoor upholstery
EXTERIOR EQUIPMENT
OPT0582180 Manual gangway
OPT0582240 Cockpit tent
OPT0582270 Exterior window blinds for saloon
OPT0582280 Bimini for helm station / 1 Sun awning on the transom
OPT0582290 Enclosure for bimini helm station
OPT0582350 Outdoor cushions (cockpit + lounge deck) - (Incl.Cft)
OPT0582355 Outdoor foredeck cushions / 1 Synthetic teak floor transoms at cockpit and Helm Scrubbed black caulking
OPT0582900 Additional mooring cleats
OPT0583180 Integrated Gas plancha / 1 Sveggen Furler 50T for Screecher / 1 Rolly Tasker Screecher 105m2 / 1 Add Double Raccor Diesel filter
Handrails Starb - Portside
Sticker & Boat Design
Adding 2 Jammers for Genoa sheets
Reef 2 and 3 to the helm / One line reffing system
Main Halyard Dynema - 10mm
INTERIOR EQUIPMENT
Combination lock safe
Salon curtains
Fitting out stb forepeak
Synthetic teak floor maestro shower
Handrail in staircase
Salon table convertible into berth Beds with slatted bases for 3 cabins
Bedding fabrics and materials
ELECTRONIC TV AND HIFI
Additional electric freshwater pump 
ZEUS 3S B&G 12" SANS CARTO 000-15412-001
ZEUS 3S B&G 9" SANS CARTO 000-15411-001
B&G Automatic Pilot 40NAC 3 + Hydraulic drive unit 40ST16
RADAR HALO 20+ B&G PULSE COMPRESSION RADAR DOME 36 miles
Vesper CORTEX BLACK BOX VHF AIS WIFI NMEA2000
CAMERA INFRA ROUGE FOCALE FIXE 000-10930-001
SET OF CABLES Micro C network, coaxial and supply cables
PACK INMARSAT FLEET ONE
FORWARD SCAN
TV screen (22'')
Multimedia 16/9 at Maestro Cabin
TV screen (50') multimedia 16/9 at Salon
Video TV/HIFI pack (Req. OPT0586950 and version OCE/CFT) (incl. Cft) (TV system PAL & SECAM)
TV/radio antenna (Incl.Cft)
Upgrade Bose (Req. Version OCE/CFT) - (Incl.Cft)
HOUSEHOLD APPLIANCES AND COMFORT
12V 130L Fridge (Incompatible with OPT0583010)
12V 90L Freezer (Incompatible with OPT0553000)
Cockpit fridge 220V Microwave oven (Req. Version OCE/CFT)
Dishwasher 6 pers. (Req. Version OCE/CFT)
Washing machine 5KG 220V Maestro - (Req.Version OCE/CFT)
1 Electric head large plus 2
1 Fresh water electric head (Req.OPT0585710 or OPT0585760)
12V Fan (max. 6)
Air cond. 220V 50HZ main syst.64K BTU Maestro (Req.OPT0585631)
Add salt/fresh water at bow and freshwater at transom
Add Fresh water shore Inlet at Transom (Tanks only use water from water maker)
5x Solar Panels 400W 1690*1046*40mm, MPPT, SMART Solar, SS Works
CONVERTISSEUR MAC PLUS 12/12-50A REF.81205100,Coupe Batteries.
Mastervolt MLI Ultra Lithium Batteries 3 x 600 Amps  
REMPLACEMENT COMBI VICTRON PAR MASTERVOLT Pro 12/3000 - (x2)
ELECTRICITY AND LIGHTING
Cockpit courtesy lighting (Incl.Cft)
Additional Interior 12V outlet
12KW 220V/50HZ genset (Req. Version OCE/CFT) must be Fisher Panda @ (35 Hours)
Water maker Schenker 12V 100L/h incl. automatic re-flush electronic @ (40 Hours)
Bauer Junior Dive Compressor 6m3 engine room starboard
Water filter at galley tap
220V Outlet underneath Helm station
NAVIGATION
Screecher 105m2 Rolly Tasker
Sveggen Screecher furler 5T
Bowsprit and gear for gennaker
Add. windlass control chain counter
Hydraulic aluminium davits + Supp cradle (maximum load 250kg)
Antifouling, primary epoxy Sea Jet Platinum 39
Blue Prop speed coating for props
1 Electric winch for genoa sheet (Incl.Cft)
Second and third reef to helm with additional jammers and blocks
1 Electric davit winch
1 Highfield Hypalon Dinghy 3.6m incl. CTP Console
Suzuki 20HP short shaft, electric starter without tiller
Cholamark Dingy and engine cover
SAFETY
Safety equipment without life raft (Lifesling, Life Rope )
Seadoc First Aid Kit Offshore
100 Mtr. Chain 10mm short link 70 Grade high tensile + 33KG Rocna Anchor
Mantus Spare Anchor 15 Kg
Transom life raft holder
Plastimo 8 Person container life raft >24h
Add Pad eyes on transom steps for fenders
Add fire extinguisher at each cabin, saloon,cockpit, engine rooms 7x
EPIRB Ocean Signal
MOB Beacon transponder at Life Jacket
2 Lifesling
Lifeline 50mtr
VHF Handheld Radio HX890 Standard Horizon
2 Flare set
LED Headlamps
3 LED waterproof Handlamps 
3 Life Jackets with lifelines
DELIVERED @ (Launched 12th June 2021) WITH:
Navionics Sea Maps
Towels
Bedding incl. Logo
Safety Equipment (VHF, EPIRB, Garmin, Life sling Jackets, Life sling…
Diving Gear & Bauer Compressor 
QUESTIONS & ANSWERS:
1) Has there been any damage to her at all?
No damage at all.
2) Is the dive gear also being included besides the compressor?
Compressor and 2 Bottles included.
3) Can the AC run with on the lithium bank only or does the genset need to operate as well?
1 Unit can run ( saloon) on solar and solar is still putting in power.
4) Have the alternators been increased in size or is the gen set the prime charging system if solar is not able to fill the bank?
The alternators don't charge the Lithiums. They only charge the engine Batteries. The Lithiums are charged via solar or the Genset. The genset has now got 35 hours on it (OY have already changed this online for you) and you will not need to run the genset. The 2000W is enough to power to run all appliances Incl.230V dishwasher, washing machine, coffee maker.....
5) Are the logos in the cockpit and on the hull removable?
Yes. It's all done by stickers.. :) 
6) More questions are very welcome..
LATEST UPDATES: - (21/03/2022)
[21/03, 14:55] OWNER - (Frank/FP Saona 47):
Please find her current inventory for all aftermarket questions: 
3-cabin Maestro version, currently located in Sicily, Marina di Ragusa and leaving in April to Crete and Greek Islands.
Engine hours: 470h, Water maker hours: 45h, Generator hours: 30h
- 2100 amp-hours of Lithionics Lithium house bank (Mastervolt)
- 2000 Watts of solar
– ( 5x Sun power 400w panels)
- Custom solar arch at Transom
- Two 3000w Victron Multi plus Inverter
- Two Mastervolt MPPTs solar controllers
– Bluetooth Smart
- Two Charger for starboard and port engine starter batteries
- Master volt smart multi-functional control display
- Bluetooth solar panel control and data logger
- 230V and 12V plugs all around in kitchen and helm
- Flexi-fold props with Proposed re-work Feb 2022
- B&G 14 Inch plotter at helm, 12 Inch at Nav Station
- B&G radar, forward sonar, deep sounder, fish finder
- B&G Auto Pilot (best in class) with controller at helm and Nav Station
- Anchor multifunctional display with chain counter and remote at Helm and Anchor        locker.
- Cameras – Forward and reverse connected to plotter at helm
- Vesper Cortex VHS and AIS system at Helm and additional Handheld at Nav Station
- Anchor watch through Vesper Cortex
- Inmarsat Fleet One Satellite System with Cobham Satphone and Internet system..
- 2x VHF Handheld radios Horizon AX890 as backup
- B&G Wind-sensor
- Flexiteek with borderline at cockpit and helm station
- Flexiteak floor at Maestro Shower
- LED Courtesy Lighting Blue
- Rocna 35kg Anchor with swivel and with lighter 100 mtr. 70 high grade tensile galley 10mm chain
- Heavy duty bridle
- Second Anchor Mantus 15kg
- Cushions for cockpit, helm, sundeck and cocktail area
– Sunbrella Papyrus new design after Feb 2021
- Volvo 60 HP – D2 Engine with saildrive
- Shore fresh water Inlet at Stern
- Fresh water outlet at Stern
- Fresh and Saltwater Outlet at Stern and Bow
- Gas Plancha integrated at Transom
- Cockpit Fridge
- Fisher Panda new Generation Genset 12KW
- Six A/C Units with reverse heating system, able to run on 12V or 230V 64BTU
- Bowsprit and Pro Furler, second furler Sveggen 5T for Screecher
- Water maker - Schenker ZEN 100 with 105 ltr/ Hour 12V (Lowest energy consumption in the market)
- Heavy load hydraulic aluminum davids with support craddle (250KG) with remote control
- Water purifier at kitchen sink (Filter and UV sanitizer)
- Second faucet for salt water at kitchen sink
- Propane shut-off valve and dual tanks
- Galvanic Isolator
- Washing machine 230V 5Kg
- Dish washer 230V 6 Person at kitchen
- Microwave at kitchen
- Saeco / Philipps Coffee machine fully automatic at kitchen
- Smoke Detectors in all cabins
- Bottom paint checked and maintained in Feb. 2022 (Sea Jet 039 two components        Blue).
- 9 Fans in all rooms
- 6 fire extinguisher
- Bimini at Helm with enclosure and large window
- Helm LED red lighting for passage
- Cockpit enclosure all around with separate white summer sun blinds at Transom
- 3x Electric freshwater / saltwater heads with 50 ltr. Blackwater tank each
- Windlass Control Chain Counter
- Additional electrical Freshwater Pump and bilge pump
- 90L Freezer at kitchen
- 130 ltr. Fridge at kitchen
- Beds w/ slatted bases for 3 cabins with made to order bedding equipment
- Additional Mooring Cleats transom
- Additional Pad Eyes at Transom with step fenders
- Bowsprit and gear for gennaker
- 2 Electrical winches at Helm plus one manual at helm and transom
- Spare parts for generator and engines, lots of ropes and spare lines, cleaning and maintenance equipment.
Fully equipped kitchen on request, made to order bedding, towels and bath mats.
[21/03, 14:58] OWNER - (Frank/FP Saona 47):
Full FP warranty until May 2023 incl. B&G equipment, water maker, dive compressor and solar.
[21/03, 14:59] OWNER - (Frank/FP Saona 47):
Not 100% sure but I even think there is another 2 Year warranty on the B&G and water maker since I bought it directly in France and the European warranty terms are 3 Years.
Manufacturer Provided Description
THIS SAILING CATAMARANS OFFERS THE HIGHEST LEVEL OF COMFORT, STYLE AND PERFORMANCE, SETTING A NEW STANDARD IN MODERN CRUISING CATAMARANS.
ELEGANCE AND INDIVIDUALITY
Encompassing the finest signature features of the Fountaine Pajot shipyard, the Saona 47 exudes a striking aura with her distinctive design, strong lines and timeless elegance under sail or at anchor.
INCOMPARABLE SPACE
The Saona 47 boasts expansive living areas for enhanced cruising pleasure. The expansive cockpit is intelligently designed for entertaining and features an extended aft platform to easily facilitate a host of leisure activities. Immerse yourself in your spectacular surrounds on the foredeck's huge sun lounger, or share in the cruising experience at the helmstation as you unwind on the exceptionally large 9m2 lounge deck.
The exquisitely crafted saloon is bathed in bright natural light, and her comprehensively equipped galley has an island bench and an abundance of storage for extended cruising. Available in two layouts, you can choose a 3-cabin Owner version featuring a decadent master suite that occupies an entire hull complete with a luxurious ensuite with Italian-style shower, with two generous guest cabins in the port hull that each enjoy their own exclusive ensuites. The Saona 47 is also available in a five-cabin charter version with private ensuites to the four double guest cabins as well as to the convenient crew quarters.
PERFORMANCE AND AGILITY
The Saona 47 cruising catamaran has been meticulously designed to offer intuitive responsiveness at the wheel and unparalleled performance in all conditions. Her optimised weight-to-volume ratio delivers exceptional balance and stability for an unforgettable sailing experience at any speed.
The Saona 47 – a dynamic yacht delivering cruising pleasures designed to be shared!
Disclaimer
The Company offers the details of this vessel in good faith but cannot guarantee or warrant the accuracy of this information nor warrant the condition of the vessel. A buyer should instruct his agents, or his surveyors, to investigate such details as the buyer desires validated. This vessel is offered subject to prior sale, price change, or withdrawal without notice.
Additional Contact Information
Please feel free to contact us by Whats App @ (0044) 7766086542